Has it been a while since you truly loved your smile because of a missing tooth or even multiple teeth? This oral health dilemma is actually more common than you may think. Patients of all ages come to our practice seeking solutions about how to restore their smile for a more complete appearance that radiates renewed health and happiness.
Implants can provide the solid and strong foundation you've been seeking, allowing for long-term stability and comfort. Whether you're missing one or a few teeth, Dr. Highsmith can artfully craft a treatment plan designed to restore a fuller smile that's refreshed and complete. Over the past few decades, he has placed and restored thousands of dental implants. Patients enjoy compassionate care in the comfort of our office, instead of bouncing around from specialists to dentists. Dr. Highsmith is accredited by the American Academy of Cosmetic Dentistry, so know in the end you're going to love your new look.
Stop missing out on life by shying away from social situations or avoiding the foods you love because of an imperfect smile. Start living all over again with a flawless smile free of missing teeth.
Implant dentistry has grown in popularity over the past two decades. But its uses are rooted in history as far back as 600 A.D. in early Mayan cultures, where researchers have found evidence that implants constructed of jade and carved stones helped replace missing teeth.
ASK US ABOUT AN IMPLANT CONSULTATION – TODAY!
Discovering Implants: Are They Right For You?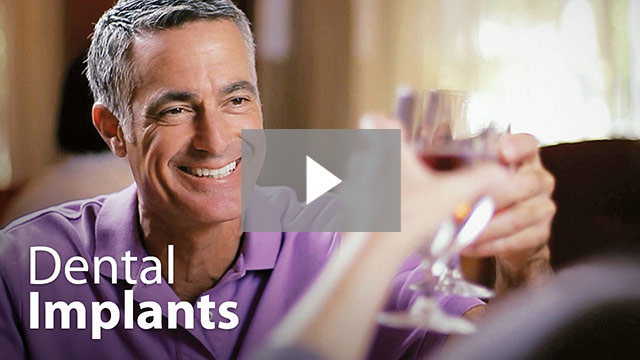 Today the process of placing implants is a combination of art and skill, designed to replace natural teeth with a durable synthetic root and crown to restore functionality and form.
Under proper conditions, dental implants can last a lifetime and transform a mouth damaged by a missing tooth or teeth as a result of injury or disease. Implant retained dentures can offer a more dependable solution to removable dentures, with stability you can always trust.
Outstanding results are achieved by placing an artificial tooth root into the jaw and finishing with a customized crown designed to mimic the look, color, and feel of surrounding natural teeth.
THE DENTAL IMPLANT ADVANTAGE:
Replace one or more missing teeth with a singular crown or bridge.
Make dentures fit more comfortably and securely.
Create a fuller, enhanced appearance for added confidence.
Do away with dietary restrictions and enjoy a sizzling steak instead of fish.
Dental implants have been helping people enjoy fuller, healthier smiles for decades. Now's the time to find out how implants can help you stop missing out on life because of missing teeth.